Article as published in The Eagle Tribune
By Terry Date
March 17, 2009
SHE'S A PINBALL WIZARD
New Hampshire woman a whiz at fixing arcade games.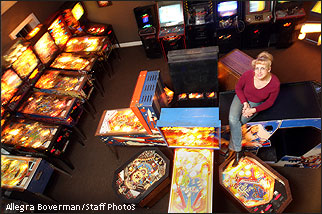 Welcome to the time machine. Pinball repair technician Sarah St. John, 43, flips dual wall switches in an arcade-sized room in her home workshop. A bank of pinball machines to the left lights up. They flash, pop, ring. One even roars.
The heads on the machines display popular culture icons in campy poses from the 1960s, '70s, '80s and '90s - a 1960s surfer girl dance party, Captain Kirk and the Star Trek gang, Dirty Harry frowning and waiting for someone to make his day.
The machines convey a sense of time flipping backward.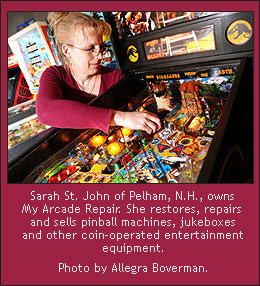 That's the way St. John likes it. She is one of the few repair technicians who serve a small group of people who have a passion for pinball.
St. John got her start in pinball repair as a 16-year-old Pittsfield High School student in 1981. The owner of Berkshire Vending Co. recruited her to work as a summer technician, cleaning pinball and other amusement machines.
Within a month, St. John proved she was capable of more responsibility after she asked to fix a broken Xenon pinball machine. She perused a manual, ran some tests, and reprogrammed a memory chip. Green lights flashed seven times and Xenon came alive.
"It started the game up," she said. "It was a great feeling."
St. John was promoted to traveling repair technician. Through high school, then college, she drove a Berkshire Vending Co. car to taverns, pizza joints and arcades, hauling her bag of fuses, switches, chips inside and fixing the machines. Her skills paid for college.
St. John has a yen for those days. She was in her youth. It was the digital revolution. Pinball was popular and changing, becoming more complex, and video game interest was rising after the arrival of the games Space Invaders and Asteroids.
Graduating with an electrical engineering degree from Northeastern University, she went to work as a technology specialist for a semiconductor company after the arcade business crashed in the late 1980s.
In July, the Pelham woman retired and returned to pinball repair. Actually, she never left. She has been repairing machine for friends all along, collecting customers, of which she now has about 400, as well as parts and machines.
"I accumulated a huge selection of machines, and friends would ask if they were for sale," she said. Her new business is called My Arcade Repair LLC.
The pinball world is fairly small, said Gary Vincent, curator of the American Classic Arcade Museum at Weirs Beach in Laconia, where he has 270 pinball machines, all for playing. There is only one pinball manufacturer left - Stern. Williams, Gottlieb and Bally all have gone out of business.
St. John repairs Vincent's machines.
Like doctors who make house calls, St. John is one of the very few who still go to people's homes and make repairs.
"She is about the only one I know of who has a business that will go and repair games in your home," Vincent said.
One of the homes St. John frequents is in Lowell, Mass., and belongs to Joe Balas, 56.
He has 25 pinball games. St. John makes house calls for repairs to his home about 12 times a year.
St. John is a good teacher, and lets her customers take part in the repairs, Balas said.
Thanks to her lessons, he can do the simple things - clean contacts and switches, fix loose wires.
"Other than that, I have to call in the Marines, which is Sarah," he said.
Balas, who belongs to the Boston Pinball Association, says pinball is a release.
"It's fun to improve, it's fun to play," Balas said. "It's a hobby with a passion for people who are really into it, and I am really into it."
Balas said the success of St. John's repair business is due to her technical skill, but she also understands the emotions of people who play the game and want their games to perform correctly.
St. John travels within a 100-mile radius of her home, going to Maine, Massachusetts, New Hampshire and Vermont for repairs.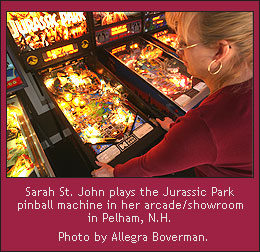 She is an avid pinball player and has more than 100 games, including classic games like Wizard. Friends often congregate at her house for hours of pinball.
Friend Adam Pfeifer, 31, of Nashua stops by about once a week either for system repairs or a friendly competition.
He's been hooked on pinball ever since age 6 and played the classic pinball game Eight Ball at his parents' home.
Often, a 30-minute visit to St. John's Pelham home will stretch into three hours, with the two of them going against each other on the game Circus Voltaire.
For St. John, the allure of pinball is the melding of technical wizardry with the fun. She likes the challenge of figuring out what is wrong with a machine and fixing it. She also likes the way the game can transport a person back to a time and place.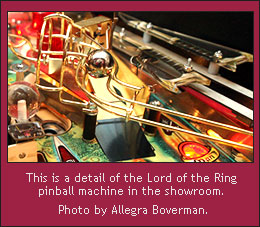 "Yeah, I can feel it, going back," she said.
She again hits the two wall switches in her workshop.
One of the first sounds is the roar from a Jurassic Park game. T-Rex cranes his neck to take a pinball in his jaws.
His species is extinct, but pinball is still holding on.